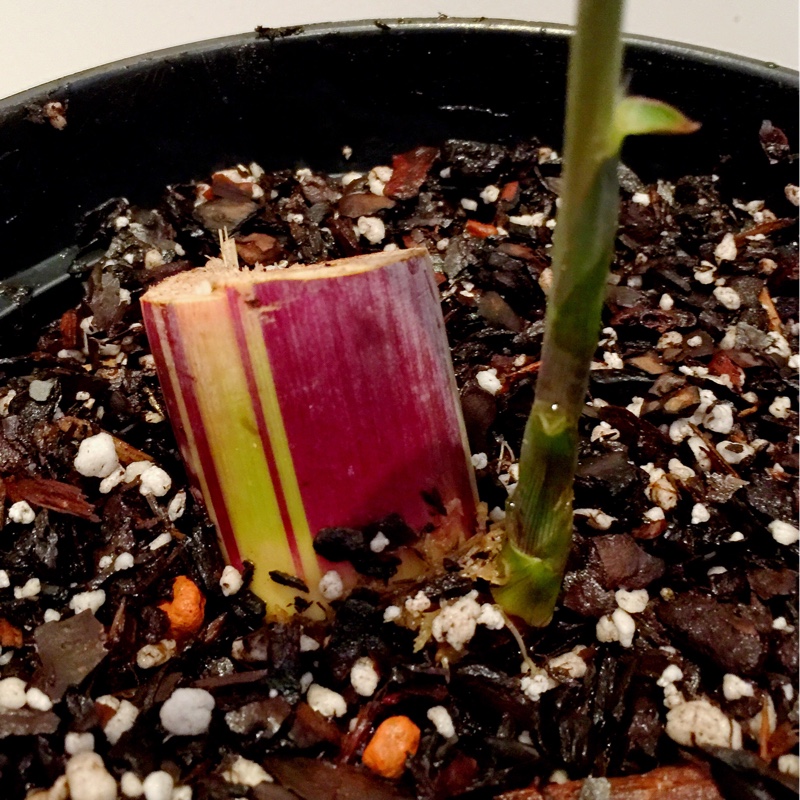 Saccharum officinarum
Sugar cane 'Striped Bengal'
Saccharum officinarum is a perennial true grass used in the production of sugar. It is native to Asia, but now cultivated throughout the tropics as a crop. It looks rather like bamboo cane, with tall stems 20-45 mm in diameter. The leaves are 70-150 cm long, up to 6 cm wide, and borne alternately on the stem, with the base of the leaf encircling the stem. The flower is a pinkish plume that arises above the foliage
Contributed by @drnicko
Full sun

Occasional watering

Not Frost hardy

Free draining
Common name
Sugar cane 'Striped Bengal'
Latin name
Saccharum officinarum
ph
6.0 - 7.7 Acid - Neutral
full grown dimensions
0.00 M
5.00 M
Saccharum officinarum
Saccharum officinarum is a perennial true grass used in the production of sugar. It is native to Asia, but now cultivated throughout the tropics as a crop. It looks rather like bamboo cane, with tall stems 20-45 mm in diameter. The leaves are 70-150 cm long, up to 6 cm wide, and borne alternately on the stem, with the base of the leaf encircling the stem. The flower is a pinkish plume that arises above the foliage
Propagating
From Late Summer TO Early Autumn
Sugar canes are all hybrids, and using seed to propagate would result in plants that are different from the parent. Consequently sugar cane is propagated by dividing a favourable species, which will then create more clones. The plants spread by underground rhizomes, so a mature plant can be divided by digging up a section of the plant and replanting it in the desired position.
Planting
From Late Summer TO Early Autumn
Sugar cane is a tropical plant, and will only grow in tropical or sub-tropical conditions. It needs moist, free-draining, moderately fertile soil, and full sun. Sugar cane is usually planted in furrows.
Subscribe to GardenTags Premium to get personalised planting tasks and more for your entire plant collection
Gardeners who are growing this plant