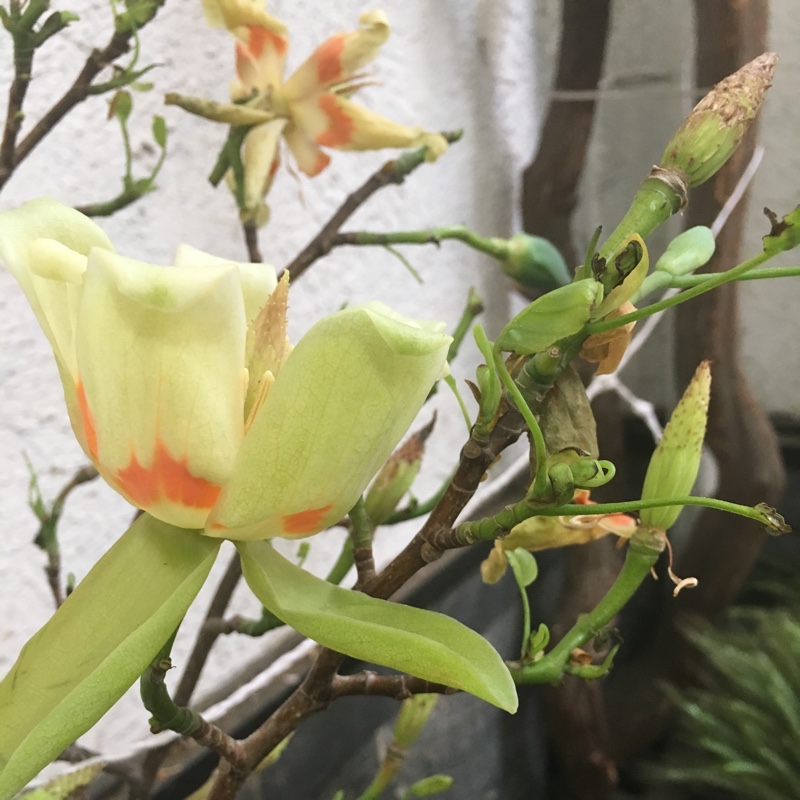 Liriodendron tulipifera
Tulip tree is a vigorous deciduous tree native to parts of the USA where it can grow up to 50 m. and is a valuable timber tree. It has greeny-yellow tulip-shaped nectar-full flowers in Spring in the warmer climates - in early Summer in the northern limits of cultivation. The large 4-lobed glossy leaves turn yellow in Autumn
Full sun to partial shade

Occasional watering

Full Frost Hardy: 5F (-15°C)

Moist and free draining
Latin name
Liriodendron tulipifera
ph
6.0 - 7.5 Acid - Neutral
Plant & bloom calendar
When the plant will bloom
full grown dimensions
8.00 M
12.00 M
Liriodendron tulipifera
Tulip tree is a vigorous deciduous tree native to parts of the USA where it can grow up to 50 m. and is a valuable timber tree. It has greeny-yellow tulip-shaped nectar-full flowers in Spring in the warmer climates - in early Summer in the northern limits of cultivation. The large 4-lobed glossy leaves turn yellow in Autumn
Flowering
From Mid Spring TO Early Summer
Tulip trees are so named because of the tulip shaped flowers they bear - but these flowers are not produced until the tree has reached semi-maturity (when it is over 10 years old). In warm climates they flower in mid Spring. In cooler climates the flowers appear in early Summer
Propagating by seed
From Mid Autumn TO Late Autumn
The trees produce seeds that can be planted in seed compost, or a 50/50 mix of compost and perlite or grit in Autumn. Cover the seed with sieved compost, water, and place the pot in a polythene bag to keep the compost moist. Remove the polythene bag once a week for half an hour or so for ventilation - and to top up the moisture level if required.
Planting
From Late Spring TO Early Summer
Plant out seedlings to a sunny, sheltered spot, after hardening off (by putting the pot outdoors during the day, to acclimatise to outdoor conditions, for a week or so, and gradually extending the period outdoors until it is fully climatised).
Subscribe to GardenTags Premium to get personalised planting tasks and more for your entire plant collection
Gardeners who are growing this plant