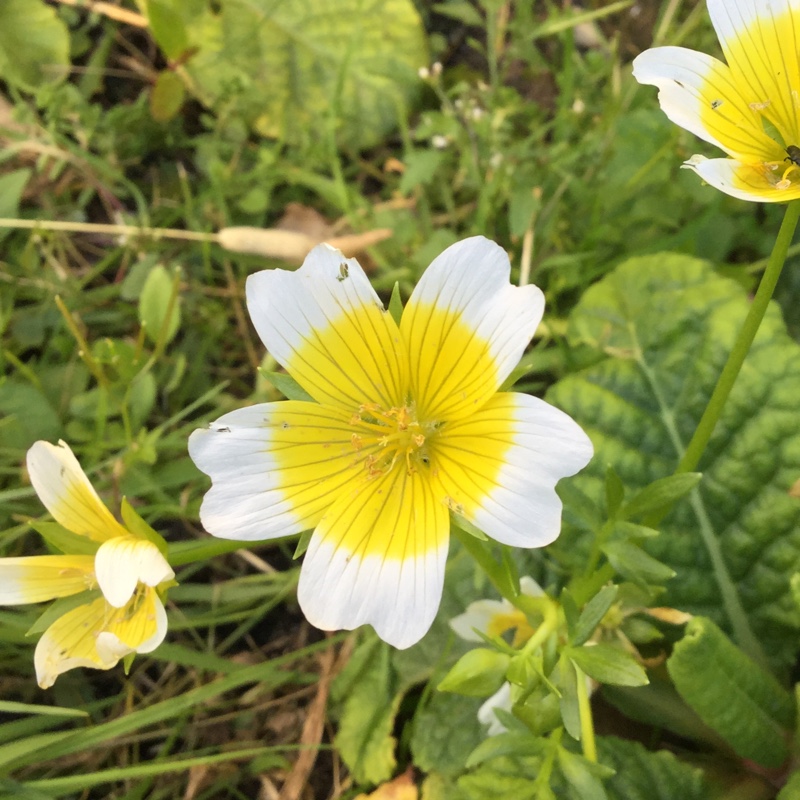 Limnanthes douglasii
Limnanthes are annual flowering plants, low-growing, with pinnately divided leaves and 5-petalled, cup-shaped flowers in Summer and Autumn. Limnanthes douglasii is a spreading plant up to 15cm in height, with bowl-shaped yellow flowers with white-tipped petals. This plant self-seeds readily, and is easy to grow
Contributed by @helmside
Full sun

Occasional watering

Full Frost Hardy: 5F (-15°C)

Moist and free draining
Common name
Poached Egg Flower
Latin name
Limnanthes douglasii
ph
5.5 - 8.5 Acid - Neutral
Plant & bloom calendar
When the plant will bloom
full grown dimensions
0.15 M
0.15 M
Limnanthes douglasii
Limnanthes are annual flowering plants, low-growing, with pinnately divided leaves and 5-petalled, cup-shaped flowers in Summer and Autumn. Limnanthes douglasii is a spreading plant up to 15cm in height, with bowl-shaped yellow flowers with white-tipped petals. This plant self-seeds readily, and is easy to grow
Flowering
From Early Summer TO Early Autumn
The flowers of Limnanthes douglasii appear in Summer and Autumn.
Propagating by seed in Spring
From Late Winter TO Late Spring
Late Winter - early Spring sowings can be started under glass into moist, good seed compost, which should be kept moist but not wet. When seedlings are latge enoughto handle, harden them off before planting outdoors. Alternatively, after last frost, sow into a well-prepared sunny bed outdoors. Sow shallowly, and thin to 10cm. when seedlings are large enough to handle.
Planting
From Mid Spring TO Late Spring
Seedlings that were raised under glass can be planted out once the risk of frost has passed, and after the seedlings have been hardened off. Plant in any oil that is moist but free-draining.
Subscribe to GardenTags Premium to get personalised planting tasks and more for your entire plant collection
Gardeners who are growing this plant