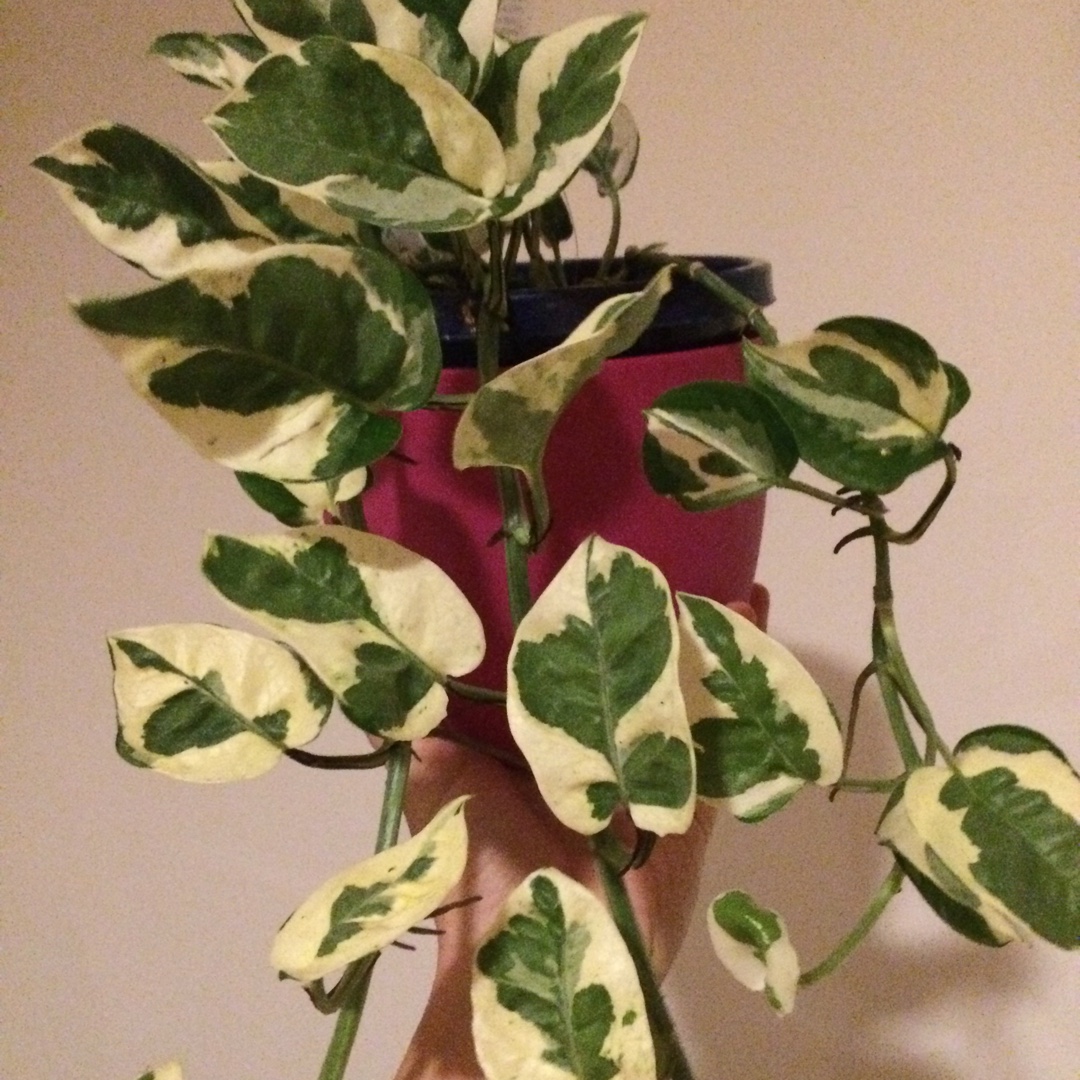 Epipremnum aureum 'Snow Queen'
E. aureum is an evergreen vine growing to 20 m tall, climbing by means of aerial roots which adhere to surfaces. It is a popular houseplant.The leaves are heart-shaped and the flowers are produced in a spathe up to 23 cm long. This plant produces trailing stems which take root when they reach the ground. 'Snow Queen' has strongly variegated white and cream leaves
Contributed by @heids
Partial shade

Very little water

Not Frost hardy

Light and free draining
Similar plants are available to buy from 1 store(s) in the UK
Common name
Pothos 'Snow Queen'
Latin name
Epipremnum aureum 'Snow Queen'
ph
5.0 - 7.5 Acid - Neutral
full grown dimensions
10.00 M
20.00 M
Epipremnum aureum 'Snow Queen'
E. aureum is an evergreen vine growing to 20 m tall, climbing by means of aerial roots which adhere to surfaces. It is a popular houseplant.The leaves are heart-shaped and the flowers are produced in a spathe up to 23 cm long. This plant produces trailing stems which take root when they reach the ground. 'Snow Queen' has strongly variegated white and cream leaves
Planting
From Early Spring TO Early Spring
Epipremnum aureum is mostly sold as a potted houseplant and as such, you only need to repot your Pothos when the roots are are so congested the plant starts to suffer. The most obvious sign of this is when the leaves are drooping despite being well watered or the plant isn't growing any more. Use moist potting compost. Average light would be best for your Pothos plant. Growth will be slow if you choose a very dark spot, this will also create sparse "vines" with leaves quite far apart. Very bright spots will eventually destroy the plant. No lower than 10°C / 50°F in Winter and ideally between 18°C - 24°C / 65°F - 75°F in the other seasons.
Propagation by cuttings
From Early Spring TO Late Summer
Propagating Pothos is really easy. Cut off the tips to create cuttings and either put them in water until they grow roots, or push the cuttings directly into pots of moist compost. They root easily so you should have a good success rate.
Subscribe to GardenTags Premium to get personalised planting tasks and more for your entire plant collection
Gardeners who are growing this plant